In case you haven't heard, a large hospital and medical center has been proposed by California Northstate University (CNU), a new for-profit college, for a location right next to the Stone Lakes National Wildlife Refuge in the southwest corner of the City of Elk Grove.
---
Habitat 2020/ECOS' Concerns
The ECOS Habitat committee (Habitat 2020) is tracking the hospital proposal and has been sharing our concerns with the City of Elk Grove.
On May 13, 2019, the Friends of Stone Lakes National Wildlife Refuge, a member of Habitat 2020 and submitted a letter outlining their concerns prior to the release of the Notice of Preparation. Click here to read the letter.
On June 27, 2019, the Environmental Council of Sacramento, Habitat 2020 and the Friends of Stones Lakes National Wildlife Refuge submitted a letter in response to the Notice of Preparation of an Environmental Impact Report for Northstate University Medical Center. Our concerns include: an increase in bird collisions, helicopter flight impacts on migratory birds in surrounding roosting and foraging habitat, lighting impacts, building a hospital in a floodplain, surface water runoff, cumulative impacts, compliance with our region's Metropolitan Transportation Plan/Sustainable Communities Strategy, growth inducement and more. Click here to read the letter.
---
Community's Concerns
The greatest concerns expressed by the community so far include:
Lack of transparency on behalf of CNU and city officials/unwillingness to correct false data and "misquotes" via the media
A facility even more expansive than originally disclosed elevates residents' concerns
Financial failure, similar to the Elk Grove "Ghost Mall", would leave behind an eyesore/empty shell of a hospital that would ultimately need to be demolished
Displacement and/or destruction of local small-businesses
Unreliable jobs projections, based on the original 24,000 being revised to only 1,400 over the next 10 years
A hospital more than 6x higher than the tallest homes in the West Elk Grove/destruction of the aesthetics of the surrounding area
Unsustainable traffic increases along Elk Grove Blvd., at the on-ramp and off-ramp of I-5 and on one of three main arteries into the Stonelake residential community
Parking overflowing onto community streets
Major safety concerns for nearby schools
Negative impacts on the natural environment
Lack of security available to accommodate the heightened safety risks
Impacts to local wildlife, such as the many birds who depend on the Stone Lakes National Wildlife Refuge to survive
Growth Inducement
---
"Neighbors Ensuring Stonelake Transparency" (NEST)
Information about NEST and their concerns can be found at https://egnest.com/ and/or https://stonelakeneighbors.com.
[You may know of the]…recent demolition of what became known as "The Ghost Mall" within the City of Elk Grove It was a failed project of former Mayor Gary Davis. Davis is now a paid consultant to California Northstate University. Coincidentally, Davis had moved into the Stonelake neighborhood just a few months prior to the CNU hospital announcement.

https://egnest.com/
---
Environmental Documents
Click here to view the environmental documents and other information on the proposed hospital.
Note: This is the main page for this project on the ECOS website. Please check back on this page for updates.
---
In the News
Environmental meeting for controversial proposed Elk Grove hospital draws dozens of questions, concerns
June 24, 2019
Elk Grove News.net
http://www.elkgrovenews.net/2019/06/environmental-meeting-for-controversial.html?m=0
Former Elk Grove Mayor Davis slammed for calling Stonelake residents childish, dishonest
April 25, 2019
Elk Grove News.net
http://www.elkgrovenews.net/2019/04/former-elk-grove-mayor-davis-slammed-for-facebook-comments.html
Emails reveal details of hospital project
Protest group says city staff's correspondence with university lacks transparency
Apr 12, 2019
Elk Grove Citizen
http://www.egcitizen.com/news/residents-speak-out-against-proposed-elk-grove-hospital-site/article_8f7e9160-41ce-11e9-84a3-5f69dd64bf8b.html
Residents speak out against proposed Elk Grove hospital site
Protestors address City Council for an hour
Mar 8, 2019
Elk Grove Citizen
http://www.egcitizen.com/news/residents-speak-out-against-proposed-elk-grove-hospital-site/article_8f7e9160-41ce-11e9-84a3-5f69dd64bf8b.html
---
Update — August 15, 2019
Here's the latest on plans for an Elk Grove Hospital, from Neighbors Ensuring Stonelake Transparency (NEST).
From a recent video on their Youtube channel:
An update on the status of the 200-year floodplain, Urban Levee Design Criteria (ULDC) and Laguna West Levee System Problem Identification Report (PIR), indicates that the Laguna West Levee System would need to be raised by an average of approximately 3.5 feet in order to comply with the 200-year flood protection standard. "The PIR identified an estimated cost of approximately $12.2M to raise 4.5 miles of existing Laguna West levees by 3.5 feet, with an additional $3.0M that may be required to extend the levees in some areas. This estimate only covers the improvements needed to raise and extend the levees. As stated in the PIR, along with the need to raise the height of the levees, there is also the potential for under-seepage and stability issues within the levee system. The potential costs to address these issues could add anywhere between $7M and $30M to the cost of achieving 200-year flood protection." This could make California Northstate University's plans for a massive medical complex to be shoehorned adjacent to the Stone Lakes National Wildlife Refuge and the residential community of Stonelake "dead in the water".
From Twitter:
August 7: "#CNU's response to questions re: building in 200-yr floodplain claims City of #ElkGrove will develop Emergency Response Plan for them & that [United States Army Corps of Engineers] USACE is planning levee and dam improvements. Is this true, @CityofElkGrove? Last council meeting suggested otherwise. #transparency"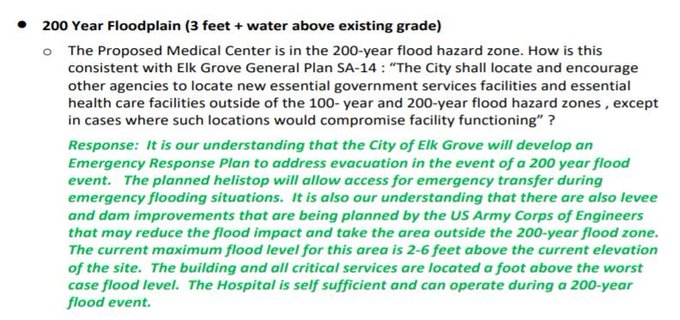 August 6: "Is [California Northstate University] Hospital Dead in the Water? […] Experts advise areas of #WestElkGrove cannot be removed from 200-yr floodplain w/o levee work costing minimum of $15.2M. General Plan mandates essential healthcare facilities be located outside of 200yr floodplain." (link: https://youtu.be/8eVQvn1PTcY) youtu.be/8eVQvn1PTcY)
August 5: "#Stonelake HOA recently conducted a survey of its members re: #CaliforniaNorthstateUniversity medical complex proposal. 17% of homeowners knew little or nothing about the project and #CNU's attempts to shoehorn it into #WestElkGrove. More conversations are needed! #ElkGrove"
Replies to the public comments can be found at this link. The project planning page where you can find more information about the project as well as diagrams and maps can be found here.

The City of Elk Grove is hosting a public hearing for the project on Wednesday, August 21st, 2019, at 6:00 pm. It will be located at Elk Grove City Hall, located at 8400 Laguna Palms Way, Elk Grove. More information about the content of the hearing can be found here.

Last updated August 15, 2019